Also, this recurring error message: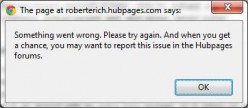 Also, frequent "HP down for maintenance...please try later" messages.

All of this has been going on since I logged in this morning, around 8:00 AM eastern time.

Others have covered these issues in other threads, but I thought I'd add them here, Cagsil, since this thread is in "Report a Technical Problem or Bug."