Earlier this week I began seeing this illustration in my AdSense account.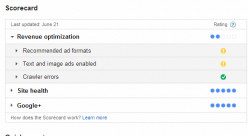 Only 2 out of 5 stars for ad optimization?! I looked at this in frustration because there is nothing I can do about optimizing ads revenue because HubPages manages the ads layout on this site. Lately, they have been "experimenting" with the ads layout. Sure, I understand HubPages is going to arrange the ads to their best earnings advantage, but why so greedy?

Today I got an "Earnings Warning" and a new illustration when I logged into AdSense.



What?!!! I earned 97% below forecasted earnings! I have other blogs and sites on this AdSense account but I have not done any major changes to any of them. It is definitely what HubPages is doing! 97%!!! I ask again, HubPages, Why SO greedy?!