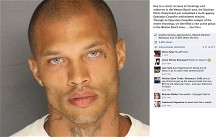 Being Jeremy Meets of California
To some he's the Hot Mug Shot guy to others he's a #FelonCrush.
Facebook page with 178,000 likes

Behind bars on $1.1 million bail
11 felony counts including gang membership and the possession of firearms

Get an modeling contract and expect to make between $3,000-$100,000 per month through endorsements.

While Meeks states he is a changed man, a family man, he is the one to respond to his admirers stating:
"I'm flattered by everything you guys say about my looks, but the situation is bad," said Meeks.

I'm just going to ask, what is wrong with our society that women are commenting on how hot he is and want to seriously pursue someone on looks alone despite the reasons for arrest. While we can't draw conclusions, 11 felony counts, doesn't appear to be the average mistaken charge count. What does this say about our society that we "collectively" are so enthralled with looks that we can ignore the factors that make the person who they are? No one has focused on the possible conviction more than they have his looks. Society has confirmed the shallow desires of the majority of our society, only evaluating the outside with little concern about the inside of a person.