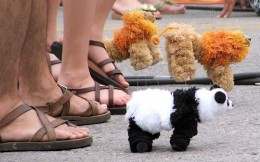 Questions that actually inspire hubs! I have just run out of interesting hubs to write. Although I could do about 10 hubs on the one question I asked about 'illogical religious beliefs', I find the topic so boring now I can hardly stand it.
And politics - don't make me laugh. Trump, Cruz and Kaisch are boring as all get out when they are not being totally outrageous for the shock value. They have no actual PLANS to help the citizens, they just want to be the biggest swinging d_i_c_k on the block. The only thing they know about is how to obstruct progress and try to take us back to the "good old days".
'How to' questions are always good, At least they convey some useful information.
How about some questions on how to cope with old age? How to save money? How to find and make deals for goods and services? How to enjoy the little things in life?
There has to be more to the Q&A than all the bickering and preaching. I say we start boycotting every question relating to "religion". What do you think?