At present, we submit articles to the Niche sites from Hub Pages. Sometimes, it gets moved to Niche site and sometime not as it requires further improvement. Need a way to filter the articles submitted to a Niche site so that one can know list of articles which was already submitted to a network site. Look below the suggestion: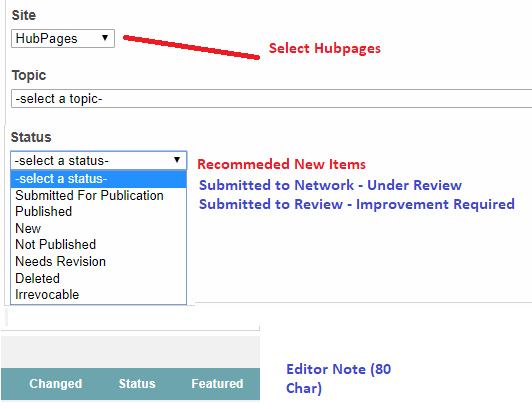 Hubbers will select hubpages as Site and in the status they can either select 'Under Review' or Improvement required. In the bottom grid, hubber can get a quick text from editor (No Editor Name & Read only to avoid arguing) stating what improvement required. Also, if we know waiting list number it will be even more useful. (For Example, 700/3000 states, the submitted article position is 700 and there are 699 article which is in the front of the queue and remaining 2300 are behind it. When the same user checks particular article after couple of days, he may notice 533/3700. This means his article moved a bit so that an editor can pick it. Soon it will go to Niche or come under Improvement Required with proper Editor Note (Read Only w/o name of the Editor)

This will motivate the hubber to improve their older articles and get feedback from the editors.