Nope.. It's hard to describe, so I took a couple screen shots..


This is how it looks in the editor: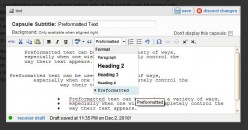 You should be able to see the selection that says "preformatted."
(on the menu bar, next to the blockquote function, where it says "format")



This is what the finished product looks like: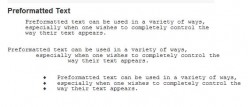 Like I said, it's a pain to work with, but if you absolutely need to format a lot of text in a capsule this is the only way that I've found to do it. You just have to watch so that the text doesn't run off the side of the screen.

Sorry for the small pictures.. I figured they'd come out bigger on here.

Hope that explains it..