What Amazon suggests is if you have your own website. For the most part, ignore it.

It is impossible to create a clickable Amazon banner on your hub. That would involve using HTML code, and HubPages doesn't allow that.

You can add an image of the Amazon logo, but it won't do you any good. It'll just be a picture.

If you want to add amazon products to your page, follow these steps. I'm sure you know most of it, but I'm going to include all the steps just because I can.



1. Open a hub to edit it. Locate the "ADD" button that floats on the right side of the screen. Click on "Amazon".





2. After the Amazon capsule shows up, click on the "Edit" button.





3. Click on "Choose Specific Products"





4. You'll end up with this screen. After you get this, stop. Open a new browser window and go to Amazon.com.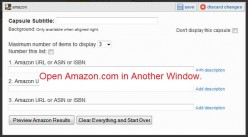 5. Go find your product that you want to advertise. Once you're on that page, either copy the URL, OR scroll down and find the ASIN code. (Ex. ASIN: B00400NL02) This is located in the "Product Details" section on Amazon. Copy the URL OR the ASIN code.





6. Switch windows back to the HubPages page where you are editing your article. In the still-open window go to where the window says "1. Amazon URL or ASIN or ISBN:". Paste the URL or the ASIN code that you copied there. Click "Save." You'll end up with this:






Once you get the hang of it, it's really quite simple. HubPages has its own way of doing things, so you can't always follow the instructions that Amazon.com provides.

I hope this helps..