I write for Triond and so do some other people in Hubpages.
Due to our very hard work, Triond have now increased our earnings.
Mine is below.... $17,485.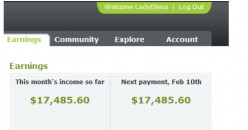 OK... don't get too excited - it's a Technical issue...
I took a snapshot today



I just wish it was mistakenly paid into my Pay Pal Account.. Now that would be something...