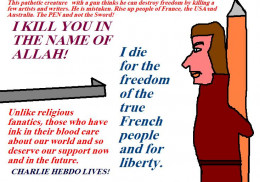 1. Murdering artists and writers because they have attacked your beliefs. Why not simply take them to court?
2. Forgetting that the Crusades ended more than 500 years ago.
3. Not wanting to practice live and let live.
4. Going to an Australian beach and insulting and monstering girls as young as eleven for wearing bikinis.
5. Marching cap in hand into someone else's country and then demanding some religious laws such as Sharia Law be introduced.
6. Shooting someone who works for the police because you are religiously opposed to the government of your adopted country.
7. Going overseas to rape and murder then expecting to be let back into the country.
8. Going into a bank with your face completely covered on religious ground and not expecting to be marched out of the place by security.
9. Demanding that everyone eats only what has been approved by whatever religion.

I AM CHARLIE and I believe in democracy.