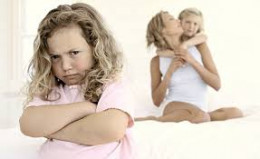 Many people have 2 children because they don't want their first child to be an only child. They are under the mistakenly assumption that only children are lonely children. So in their minds, they have another child w/the purpose of giving their first child a "companion." Even though the family is happy as is, they cave into the societal premise that a family consist of at least two children & that a 1-child family isn't a family in the strictest sense.

Many parents are happy with their 1-child family. However, they are told by family, friends, & other relatives that their child need a sibling. Oftentimes, they have that other child, much to their regret. The first child clearly doesn't want the other child in his/her life, even seeing that child as an intrusion. There is even more familial stress because of the addition of the other child.

Studies have sign that siblings aren't necessarily the best thing for children. Siblings are oftentimes the worst thing for children. There is sibling rivalry which causes self-esteem issues & carries lifetime wounds. Siblings are known to fight, even abuse each other because of the proximity of familial space & the competition for parental resources. Yes, siblings mean drama & lots of it.

Also, oldest children, even in 2-child families, are cast aside in favor of the younger sibling. This causes a sense of not being wanted & loved by their parents. It is quite normal for oldest children to regress to more childlike behavior at the birth of a sibling in order to get the attention h/she needs.

Oftentimes, the resentment of the oldest child towards the younger sibling manifest itself in many ways. Bullying is one. Many oldest children are known to bully their younger siblings physically, mentally, emotionally, psychologically, &/or even psychically. Sometimes it is better for parents to leave well enough alone & not have THAT second child. Studies have shown that only children are the happiest & that only child families are the most stress-free. Children really don't need siblings to have companionship. They can find companionship through their cousins & friends.