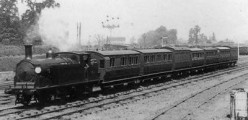 Above Is The London Necropolis Train Back When It Was Running

The train for dead people. It was the end of the line for thousands of Londoners in the late 19th and early 20th centuries. It was a railway dedicated to transporting corpses from the capital to Brookwood Cemetery in Surrey.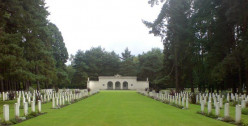 Part Of Brookwood Cemetery

The London Necropolis Railway opened in 1845 in response to chronic overcrowding in cemeteries where the same graves were being used over and over again for fresh internments. The graves previous occupants' bones were often scattered on the ground or sold to local bone mills to be ground up into fertilizer.

There were two new stations built. Brookwood South for Conformist burials and Brookwood North for Non Conformist.

The Funeral line was expected to be highly profitable but almost as soon as the Funeral train got going 32 new cemeteries got opened.

And then the Second World War got going and the stations for the funeral trains soon got destroyed by German Bombers. When the war was over it was considered to costly to try to rebuild the funeral train line.

And believe it or not but sticking to British custom people in their coffins were sent off by First Class, Second Class, or Third Class.

Third Class passengers and any mourners that met them at the Brookwood end were treated third class. They were the last coffins unloaded and their family and friends were not allowed to watch the third class coffins leave the train. They had to be claimed 24 hours later in the far corner of the train yard in Brookwood. I had no ideal you could travel third class as a corpse.

Now what do you think about that.