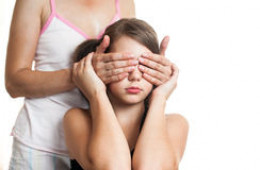 Personally speaking I think the Bible contains some of the most violent stories and adult subject matter ever written in a single book!
There are too many instances where stories would be considered inappropriate to tell or explain to a 5 year old.
A few examples: David cuts off Goliath's head, Samson kills (1000) men with the jawbone of a donkey, Adam & Eve's son Cain kills his brother Abel, Herod gives orders to kill all the boy babies in Bethlehem, Abraham was prepared to kill his son Isaac.
Even the details of the crucifixion of Jesus are too gruesome for kindergarten age children.
The goal of most parents is retain their children's innocence for a long as possible. They'll have plenty of time to read about wars, murders, sex, betrayal, and the end of the world in Revelations.