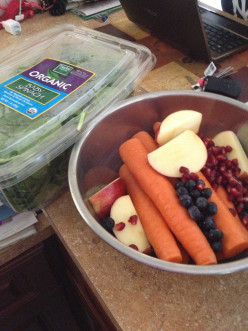 I went to Costco the other day and went crazy buying fruits and veggies in bulk. Its so much cheaper than buying in your local supermarket because people do not realize you need A LOT of it in order to get even a cup of juice. Preparation is key in this otherwise you will quickly lose your drive to juice. Clean the fruits and veggies beforehand and trim the ends of what needs to be trimmed. This way you can have a constant flow of juicing without having to stop in order to add more ingredients. Remember patience is key in this process.

Here's a Recipe of Mine.
*Wash and Trim Everything even if the packaging says it is pre-washed give in a quick rinse*
Half a Lime
2 Cups Fresh Blueberries
2 Cups Fresh Pomegranate seeds
3 Cups Fresh Spinach
15 Whole Carrots
3 HoneyCrisp Apples (Gala works as well and if you like it tart by all means use Green Apples)

Great for the morning or a perfect pre-workout drink.
Note: Squeeze the lime into the container the juice will be used in first it keeps the juice fresher longer and prevents the apples from browning and getting over ripe if not consumed right away. Juice should be in the fridge no longer than 24 hours remember there are no preservatives.
Enjoy!