Chicken Crock Pot Tacos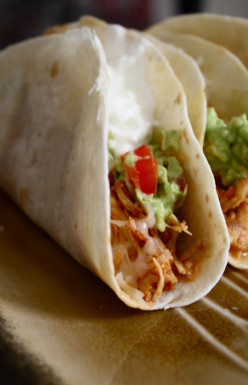 Here we have chicken tacos made in the crock pot. It's a very easy to make recipe that anyone can make quickly and easily.

You will need for your recipe

1. One Can Cream Of Mushroom Soup
2. One Envelope Taco Seasoning
3. Six Skinned Boneless Chicken Thighs
4. One Sixteen Ounce Jar Salsa

Put all your ingredients into the crock pot.

Cook on high for four to six hours.

After the chicken is done remove it from the crock pot and on a plate shred the chicken with a fork. Put your chicken back into the crock pot and stir well.

Now you'll want taco shells, shredded lettuce, tomatoes, guacamole, and sour cream. Put some of the mixture from the pot in each chicken taco and then add shredded lettuce, diced tomatoes, guacamole, and sour cream. Eat and enjoy.

These chicken tacos are easy to make and oh so delicious.