Some Delicious Quick And Easy Tex-Mex Recipes For Everyone




Here is a collection of quick and easy to make recipes that your sure to love. They have some very basic ingredients and they are all real easy.

Rockin' Guacamole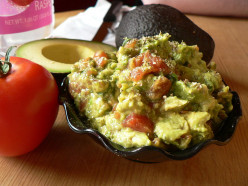 1. Three Ripe Avocado's Pitted, Peeled, And Mashed.
2. One Can 10 Oz. Ro-Tel Diced Tomatoes and Green Chilies.
3. One Half Cup Very Fine Chopped Onion.
4. One Tablespoon Fresh Squeezed Lime Juice.
5. One Teaspoon Ground Sea Salt.
6. One Teaspoon Ground Black Pepper.
7. Zest From One Lime.

Mix all your ingredients together very well and put into a plastic container with a lid and chill in the refrigerator for at least four hours. Serve with tortilla chips and I just bet that everyone is going to love this.


Salsa Chicken




Here is another great recipe that tastes really good and you can make it real quick.

Ingredients

1. One Package Zatarain's Yellow Rice.
2. One Package Taco Seasoning.
3. One Pound Skinned Boneless Chicken Thighs Cut Into Small Strips.
4. One Fourteen And A Half Ounce Can Diced Tomatoes.
5. One Third Cup Peach Preserves.
6. Two tablespoons Vegetable Oil.

Toss your chicken strips in a plastic bag with the taco seasoning and shake it well to coat the chicken well.

Cook your chicken in a skillet with the vegetable oil added.

Cook until the chicken is done and starting to brown. Now stir in the tomatoes and preserves and heat about 10 more minutes on a low simmer.

Make the yellow rice by the package directions and serve the finished chicken dish over the rice. Its quick and easy to make this meal and its oh so delicious.

Delicious Quick And Easy Chicken Tacos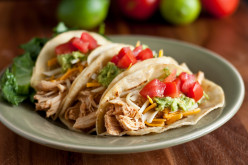 Take two pounds of skinned boneless chicken thighs and sprinkle them with a envelope of taco seasoning. Cook in a pan or on the grill until the chicken is browned and done.

Shred the cooked chicken with two forks.

Put your chicken tacos together on flour tortillas with lettuce, tomato, onion, sour creme, guacamole and shredded Mexican cheese. I make these tacos all the time and everyone I make them for loves them.

Okay there you have three quick and easy recipes that almost anyone should be able to make. And I guarantee you that everything will be delicious.