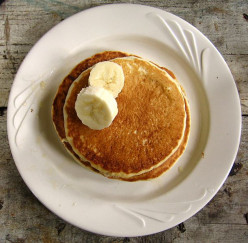 Banana Pancakes With Peanut Butter And Jelly Syrups

Ingredients

1. Two Cups Bisquick Baking Mix.
2. One Cup Buttermilk.
3. One Cup Mashed Banana
4. Two Large Eggs.
5. One Level Teaspoon Ground Cinnamon.
6. Three Tablespoons Butter.
7. Three Fourths Cup Maple Syrup.
8. One Fourth Cup Creamy Peanut Butter.
9. Strawberry Syrup.

Whisk together the first five ingredients in a large bowl until the dry ingredients are moistened.

Melt 1 tablespoon butter on a hot griddle. Pour about 1/4 cup batter for each pancake onto griddle. Cook pancakes until tops are covered with bubbles and edges look cooked. Turn over and cook the other side.

Repeat prcedure with remaining batter and butter.

Whisk together your maple syrup and peanut butter until smooth.

Serve pancakes with peanutbutter mixture and strawberry syrup.

Notes

Combine dry ingredients in one bowl and wet ingredients in another bowl the night before so they are ready to stir together the next morning. Cover both bowls with plastic wrap and set wet ingredients bowl in the refrigerator for the night.

These pancakes are great served with brown link sausage or crisp fried bacon.

I have purchased a home flat grill that I use for making pancakes and etc. on. They are great for making pancakes or frying eggs and making omelets.

Tom Thumb Panckes

Make these pancakes real little by dropping a tablespoon full at a time onto the griddle. Use another tablespoon to push each tablespoon full of batter off onto the griddle. Kids just love these mini pancakes.

Crazyhorsesghost

Crazyhorsesghost and Thomas Byers are one in the same person. I have been a Chef for over fifty years and I love sharing recipes. Check my profile for lots of great recipes. Yes I know this post would make a Great Hub Page but I wanted to post it here. I hope you get to enjoy this recipe.

Comments, Tips, Suggestions, Etc.

If you like this post please reply with a comment. If you have comments, tips, suggestions etc. please post them below.