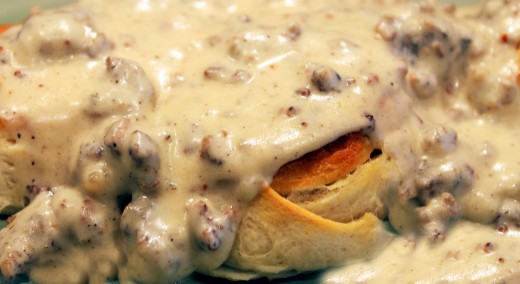 Sausage Gravy over homemade biscuits is one of the best things on earth. Here we have a recipe for the best sausage gravy you will ever taste in your life and a delightfully delicious and easy recipe for Baking Powder Biscuits. If you want to serve the best gravy and biscuits ever then you need to check out these two wonderfully delicious recipes.

Sausage Gravy Recipe

1 Pound Breakfast Sausage
2 Tablespoons Very Fine Minced Sweet Onion
6 Tablespoons All Purpose Plain Flour
1 Quart Whole Milk
1 Teaspoon Fine Ground Nutmeg
1 Teaspoon Poultry Seasoning
Dash of Worcestershire Sauce
Dash of Tabasco Hot Sauce

Crumble your sausage up in a large deep skillet over medium low heat. Break the meat up in small pieces while it cooks but do not let it get too brown or get crisp.

When the meat is about two quarters cooked, add the onions and cook until the onion is real soft. Do not over cook the sausage or the onion.

Drain off all but 2 tablespoons of the meat drippings. You don't have to be real precise about this. Stir the flour in with a wire whisk. Cook over medium low heat for 8 - 10 minutes or until the flour turns golden brown and bubbles up.

Pour in the milk all at once and add the seasonings. Cook and stir until the mixture thickens. Place at least three biscuit half's on a plate and top with your homemade sausage gravy.

Baking Powder Biscuits

6 Cups All Purpose Plain Flour
1/2 Cup Instant Dry Powdered Milk
1/4 Cup Baking Powder
1/4 Cup Sugar
2 Teaspoons Ground Sea Salt
2 Teaspoons Cream of Tartar
1 Cup Cold Lard Like Crisco Cut Into Very Small Pieces
1 Cup Cold Butter Cut Up In Pea Size Pieces
1 3/4 Cup Buttermilk

Preheat your oven to 400 degrees.

In a very large bowl, combine all the ingredients except the shortenings and the buttermilk.

With a pastry blender, cut in shortenings until mixture resembles course crumbs

Make a well in the center and pour in the buttermilk. With a fork, quickly and lightly combine the ingredients. Not all of the flour will be incorporated at this point.

Turn the dough out onto a well-floured pastry cloth or board and, with floured hands knead it 8 - 10 turns until smooth. Roll out to about 3/4 inch thick.

Use a 2 1/2 inch biscuit cutter to cut the dough and prick each biscuit three times with a fork.

At this point freeze or bake the biscuits. If using immediately, place about 2 inches apart on oiled cookie sheets and bake for 13 - 16 minutes or until golden brown.

To freeze, place un baked biscuits on sheets in freezer. When they are hard transfer to a zip lock freezer bag. To serve, remove as many biscuits as needed and bake frozen on oiled cookie sheets in a 400 degree oven for 15 to 18 minutes.

And guess what? You now know exactly how to make the best Biscuits and Gravy you will ever eat in your life. And yes I do mean the best ever.