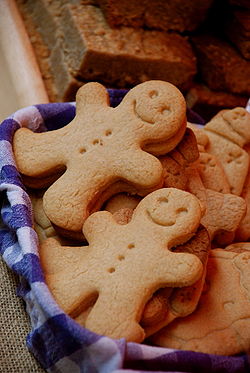 I had someone ask me a while back for a Gingersnap Cookies Recipe so I thought I would do a complete post. Here is everything from Gingerbread Men to Gingersnap Cookies. I think this is the perfect time of year for this post. Yes I know it could be a Hub Page but I'm going to be doing a lot of recipe and food posts here in the forums for a while. I hope everyone enjoys them.

Gingerbread is a dense, ginger-spiced cookie flavored with molasses or honey and cut into decorative shapes, or a dark, moist cake flavored with molasses, ginger, and other spices. Gingerbread cake is usually baked in a square pan and is often topped with lemon sauce, ice cream, or whipped topping.

Gingerbread Men

1. 1 Cup Butter or Margarine.
2. 1 1/2 Cups Brown Sugar.
3. 2 Large Eggs.
4. 2/3 Cup Molasses.
5. 1/3 Cup Fresh Lemon Juice.
6. 6 1/2 to 7 Cups All purpose Plain Flour.
7. 2 Tablespoons Baking Powder.
8. 1 Teaspoon Baking Soda.
9. 1 Teaspoon Ground Sea Salt.
10. 2 1/2 Teaspoons Ground Ginger.
11. 2 Teaspoons Ground Cinnamon.
12. 1/2 Teaspoon Ground Cloves.
13. 1/4 Teaspoon Ground Nutmeg.
14. 1/2 Cup Raisins.
15. 1/4 Cup Cinnamon (red) candies.
16. White Frosting. ( See Recipe Below )

How To Do It

Beat butter at medium speed with an electric mixer until creamy; gradually add brown sugar, beating well. Add eggs, molasses, and lemon juice; beat mixture well.

Combine 2 cups flour, baking powder, and next 6 ingredients; stir well. Add to butter mixture, beating at low speed until mixed. Gradually add enough remaining flour to make a stiff dough, mixing well. Shape dough into two balls. Wrap each in plastic wrap and chill in the refrigerator for one hour.

Roll 1 portion of dough to 1/4 inch thickness on a large greased baking sheet. Cut Gingerbread Men with a 5 1/2 inch cookie cutter. Remove excess dough, using the tip of a knife. Add excess dough to remaining half of dough; wrap in plastic wrap and chill until needed.

Press raisins and cinnamon candies in each gingerbread man for eyes, nose, mouth, and buttons.

Bake at 350 degrees for 10 to 12 minutes. Or until golden brown. Cool 2 minutes on cookie sheet. Remove to wire racks to cool completely. Decorate Gingerbread Men with the white frosting.

White Frosting Recipe

1. 1 16 oz. package powdered sugar, sifted.
2. 1/2 cup shortening.
3. 1/3 cup half and half.
4. 1 teaspoon vanilla extract.

Combine all ingredients in a large bowl; beat at medium speed with an electric mixer until mixture is spreading consistency. Use frosting to outline gingerbread and to make cuffs, collars, belts, and shoes.

Gingersnaps

They are a crisp round cookie flavored with ginger and molasses. Gingersnaps are often crushed and used to make crusts for cheesecakes.

Make Gingersnap Cookies

Make a run of the above dough for the Gingerbread Men only roll the dough out after it has been chilled and cut it out with a 2 inch cookie cutter. Try baking the Gingersnap Cookies and put the white icing between each two cookies for a delightful tasty treat.

My Grandmother would bake a Gingerbread Cake using the above recipe for the Gingerbread dough. She would bake her cake in a 9" X 13" baking pan sprayed with vegetable coating spray. She would make the white icing and put it on top of the cake when it was cool. And believe me this cake is delicious.

Okay I hope everyone enjoys the recipes and I hope you will comment and share the link to this post. Thanks very much.