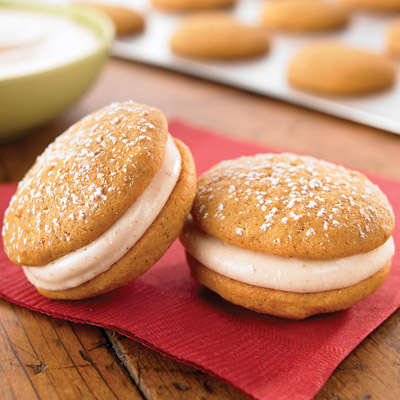 1 cup Butter, softened
2/3 cup firmly packed light brown sugar
1/3 cup sugar
1 cup mashed cooked pumpkin
1 Large egg
1 teaspoon vanilla
2 cups all-purpose plain flour
1 1/2 teaspoons pumpkin pie spice
1 teaspoon baking powder
1 teaspoon baking soda
1/4 teaspoon salt
1 cup chopped English walnuts

Frosting For Your Cookies

2 cups powdered sugar
1/4 cup Butter, softened
1 (3-ounce) package cream cheese, softened
1 teaspoon vanilla
1/4 teaspoon pumpkin pie spice
Fine chopped English Walnuts

Heat oven to 350°F.

Combine butter, brown sugar and sugar in bowl. Beat at medium speed, scraping bowl often, until creamy. Add pumpkin, egg and vanilla. Continue beating until well mixed. Add flour, 1 1/2 teaspoons pumpkin pie spice, baking powder, baking soda and salt. Beat, scraping bowl often, until well mixed. Stir in 1 cup finely chopped walnuts.

Drop rounded teaspoonfuls of dough, 2 inches apart, onto un greased cookie sheets. Bake 8-10 minutes or until set. Cool completely before you do anything with your cookies.

Combine all frosting ingredients except walnut pieces in medium bowl. Beat at low speed, scraping bowl often, until smooth. Frost cooled cookies. Garnish with walnuts, if desired.

You will come out a lot better with your cookies if you use a new or light colored baking pan. If you use a dark colored baking pan your cookies may burn.

Be sure to use regular canned pumpkin in this recipe and drain as much of the liquid out of it as possible.

I hope if you make these delicious cookies that you will come back and tell us all how they turned out for you.