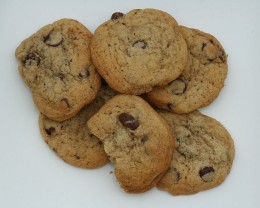 I too wonder if you moved to a place with a higher elevation. That would explain your problem. Check out the below recipe. It contains pecans but you can leave them out if you wish. I love them with the pecans.

1. One 12 Oz. Package Chocolate Chips.
2. One Cup Fine Chopped Pecans.
3. One Teaspoon Ground Sea Salt.
4. One Teaspoon Baking Powder.
5. Two Cups All Purpose Plain Flour.
6. Two Large Well Beaten Eggs.
7. One Teaspoon Water.
8. One Teaspoon Vanilla Extract.
9. Three Fourths Cup White Granulated Sugar.
10. Three Fourths Cup Brown Sugar.
11. One Cup Softened Butter.

Beat your water, eggs, vanilla, sugars, and butter together well with a electric hand mixer. Now mix in your salt, flour, and soda. Stir in your nuts and chips.

Drop tablespoon fulls onto a greased cookie sheet. Keep your cookies about two inches apart. You will want to bake your cookies in a 375 degree pre heatd oven and you should get about eight dozen cookies with this recipe.

Let me warn you here that when working with baking soda or baking powder to always make sure that you are using only a fresh product. If it has been setting in the back of the cabinet for 3-6 months it is not fresh.