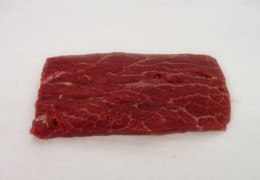 This cut is from the shoulder of the beef animal.

The flat iron steak is quickly becoming one of Americas most popular steaks and you can have your butcher to run it through the meat cuber and you will want to marinade it in liquid Italian Dressing over night and then sprinkle the steak with salt, pepper, and garlic and cook it done and serve sauteed mushrooms over the top of the steak. You can also add soy sauce to it when you are sauteing the steak and you will end up with a delicious steak.

Think outside the box and stuff the marinaded steak with sauteed mushrooms, peppers, and onions and you will end up with a delightfully delicious steak that will have people asking you for more.