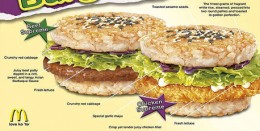 How about some sea weed seasoned fries. That's whats in the picture there.

You will also find many items in China that your never going to see in America.

McRice is served between two fried rice patties.

McSpaghetti with soft drink.

Pies are served at breakfast with a variety of pies including ham and egg and bacon and potato.

So yes they are quite different than here in the USA.