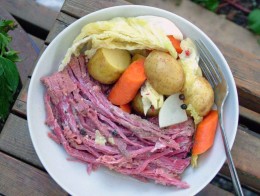 I like to cook my corned beef and cabbage by cooking the corned beef in just a little water in my slow cooker until it is done.

Then I cut up cabbage, potatoes, and carrots and I steam them with chicken broth until the vegetables are tender and done. While the vegetables are steaming in full flavor chicken broth ( not low fat ) I sprinkle them with ground sea salt and fresh ground black pepper.

When I am ready to serve I put a serving of the corned beef on a plate and beside it I place a serving of the steamed vegetables. The corn beef doesn't over power the vegetables this way and the vegetables don't over power the meat.

Try it like this and I bet you'll like it.