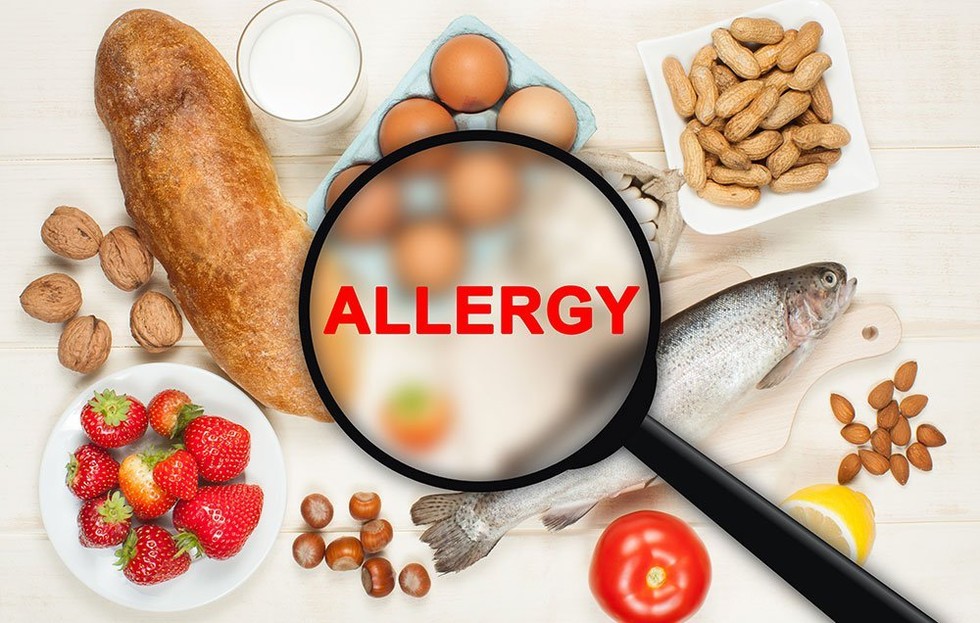 Food Allergies Facts,causes,symptoms and signs
Food allergy facts:
Food allergy is not common but can be serious.
Food allergy differs from food intolerance, which is far more common.
The more frequent types of food allergies in adults differ from those in children.
Children can outgrow their food allergies, but adults usually do not.
Food allergy symptoms include itching in the mouth and difficulty swallowing and breathing. Nausea, vomiting, diarrhea, and abdominal pain can occur during food digestion.
Food allergens absorbed into the bloodstream can cause hives, eczema, or asthma.
The diagnosis of food allergy is made with a detailed history, the patient's dietdiary, or an elimination diet.
Milk, eggs, peanuts, shellfish, fish, and wheat are common causes of food allergies.
Food allergy is treated primarily by dietary avoidance?
What is a food allergy?
Either food allergy or food intolerance affects nearly everyone at some point. When people have an unpleasant reaction to something they ate, they often think that they have an allergy to the food. Actually, however, research shows that only about 3% of adults and 6%-8% of children have clinically proven true allergic reactions to food.

This difference between the prevalence of clinically proven food allergy and the public's perception of the problem is due primarily to misinterpreting food intolerance or other adverse reactions to food as food allergy. A true food allergy is an abnormal response to food (known as a food allergen) that is triggered by a specific reaction in the immune system and expressed by certain, often characteristic, symptoms. Other kinds of reactions to foods that are not food allergies include food intolerances (such as lactose or milk intolerance), food poisoning, and toxic reactions. Food intolerance also is an abnormal response to food, and its symptoms can resemble those of food allergy. Food intolerance, however, is far more prevalent, occurs in a variety of diseases, and is triggered by several different mechanisms that are distinct from the immunological reaction responsible for food allergy.

People who have food allergies must identify and prevent them because, although usually mild and not severe, these reactions can cause devastating illness and, in rare instances, can be fatal.
What causes allergic reactions to food?
Both heredity and environmental factors may play a role in the development of food allergy. The allergens in food are those ingredients that are responsible for inciting an allergic reaction. They are proteins that usually resist the heat of cooking, the acid in the stomach, and the intestinal digestive enzymes. As a result, the allergens survive to cross the gastrointestinal lining, enter the bloodstream causing (protein-induced) allergic reactions throughout the body. The mechanism of food allergy involves the immune system and heredity.

Immune system: An allergic reaction to food involves two components of the immune system. One component is a type of protein, an allergy antibody called immunoglobulin E (IgE), which circulates through the blood. The other is the mast cell, a specialized cell that stores up histamine and is found in all tissues of the body. The mast cell is particularly found in areas of the body that are typically involved in allergic reactions, including the nose and throat, lungs, skin, and gastrointestinal tract.

Heredity: The tendency of an individual to produce IgE against something seemingly as innocuous as food appears to be inherited. Generally, people with allergies come from families in which allergies are common -- not necessarily to food but perhaps allergies to pollen, fur, feathers, or drugs. Thus, a person with two allergic parents is more likely to develop food allergies than someone with one allergic parent.

Mechanism: Food allergy is a hypersensitivity reaction, meaning that before an allergic reaction to an allergen in food can occur, a person needs to have been exposed previously, or "sensitized," to the food. At the initial exposure, the allergen stimulates lymphocytes (specialized white blood cells) to produce the IgE antibody that is specific for the allergen. This IgE then is released and attaches to the surface of the mast cells in different tissues of the body. The next time the person eats that particular food, its allergen hones in on the specific IgE antibody on the surface of the mast cells and prompts the cells to release chemicals such as histamine. Depending upon the tissue in which they are released, these chemicals cause the various symptoms of food allergy.