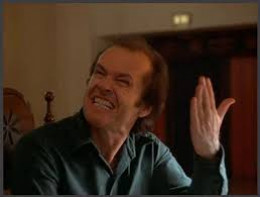 Ughhhhh, there are so many things that sets me OFF! Parents who complain that their children possess no initiative nor drive but always critique the latter if they make even a minor mistake and/or even do the task themselves because the latter aren't proficient in such tasks as the parents want them to be. Hello, mistakes are how children grow and develop. Parents who constantly bring up their children's mishaps and failures as if the children are to be perfect at all times and NEVER err. These are the parents who view mistakes as some type of mortal transgression which is unforgiveable in their eyes. Parents who assert that their children are inept and/or slow regarding mastering a task but the parents do not adequately teach the child regarding mastering that task. These are the parents who believe that children should teach themselves. Again, HELLO, children at a very early age must be taught tasks which is the parents' job.

Parents who have MORE children than they can adequately support financially and psychologically.What are these parents "thinking"? Don't they realize that by having a lot of children, their socioeconomic situation will be quite penurious at best? Don't they care about children growing up in socioeconomic poverty with little of the basic necessities such as food, clothing, and health care? Don't they realize that besides socioeconomic lack, their children will be bereft of quality parental attention? Well, guess not, these parents WANT what THEY WANT without considering the ramifications of large family life on their children.

Parents who moan about how unsuccessful their children are as adults but refusing to acknowledge that they had played a major role in this by criticizing their children's goals and dreams, having little or no concern about their children's intellectual development,and/or dismissing or denigrating their gifted children-wanting them to be N-O-R-M-A-L or A-V-E-R-A-G-E, instead of encouraging their giftedness. Parents who use insidious psychological and/or psychic means to destroy their children's self-esteem. Such parents are evil, soul destroying parents are incarnates of the most abysmal negativity.

People who refuse to learn and grow after being presented with evidence that will improve their lives and the lives of their children. People who believe in antiquated philosophies although such philosophies have no place in the postmodern era. People who simply refuse to improve themselves AT ALL!