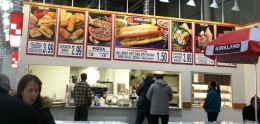 Everyone (feels) they "should" eat a well balanced diet and exercise. However three main reasons why people don't eat healthier are economic, variety, and convenience.
For example in the U.S. one can go to Costco and buy a foot long hotdog, a large slice of pizza, a soda with (free refills), and a cup frozen yogurt for approximately $5.
On the other hand a small premade salad is almost $4 with nothing to drink. It's also less filling. (less bang for your buck)
Only in the restaurant business is lettuce and tomatoes more expensive than meat and potatoes.
The whole marketing strategy for healthy food has been to mark up the prices! It's even higher for "organic foods".
In some places tomatoes are $4 per pound.
Aside from getting (more) for your money when eating junk food there is also the "taste" or "cravings" aspect many people have for fried, sweet, fatty, or salty foods. (Tons to choose from)
Choosing to eat healthy is a "practical decision" which often is an "acquired taste" one cultivates over time. Fast food for most people is an "instant" love affair!
So much so, many people feel any food that tastes good is considered "bad" for you. People hate limitations.
Last but not least since eating unhealthy food is a "slow death" from various diseases very few people feel an "urgency" to change their diet until after they are diagnosed.
Maybe if the health food industry dropped their prices such as salads being $2.99 and bottled water 25 cents you might have more people tempted.