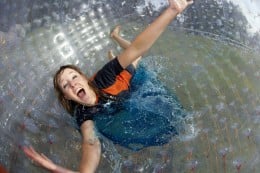 Indeed it is quite a tricky task to select an appropriate gift for a 16 year old boy in today's hectic scheduled life. But as birthday is a one day in a year occasion and the age of 16 is a sensitive one, a good gift can be the perfect option for building up a good and healthy relation between the child and the parents. Here are a few ideas that I think can be helpful:

1. 3d human clone can be a great gift. The most amazing thing is that you can create a clone of your own! So gifting the birthday boy his own 3d clone can really amaze him!

2. 16th birthday will come once in a person's life. To keep the memories of this birthday alive, a photo frame can be an ideal gift.

3. Want to gift something full of fun, laughter and thrill? Try out aqua zorbing.

4. If you want that the respective person will remember the number 16, try out a 14 caret "sweet 16" pendant.

5. Everybody likes to see his image in a mug! With magic mug that is quite possible.

There are many others that you can think of. Just try them out and make the 16th birthday special.