well hello there. I would love to spend a day with a Panda.....

I am doing o.k. thanks. I have a feeling 2012 is going to be my year. I have lots of bad health, you dont even want to know about it.... ha ha but i will tell you anyway, maybe not it will wast time.

I decided after not getting work, i would volunteer. In half an hour, i am going in to a local school, and teaching a group of mums to knit. English is not their first language, so they have difficulty reading patterns. I am overwhelmed with the results ..... They are achieving so much. The school want them to mix, as it will help relationships with teachers, and ultimately help the kids. It has been a great experience for me.

I have taken after school classes in other schools, non voluntary if you don't mind. I also help out in a nursing home craft wise, and it has helped me get back on my feet................ and you??????

And i almost forgot to tell, i got a fetac level 3 certificate in computers, I have hub pages to thank for that, i have learnt so much on here.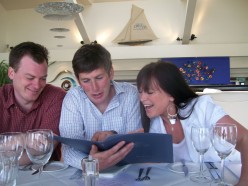 just thought you might like to see my kids. My oldest son is teaching, emotionally challenged kids World History in Florida..... My daughter is a special needs teacher. Lee my middle son, has a wonderful family and little business of his own. I am so blessed.