Great synopsis of large-very large families. There is really no need today to have more than 2, maybe 3-4 children. Large-very large families not only harm, even the environment but harm the family dynamic as well. The onus of providing socioeconomically falls on the father and the situation becomes more socioeconomically tenuous with each additional child. The mother is stretched beyond psychological endurance as she really does not possess the wherewithal to give her children the individualized attention they need. It is quite usual in large-very large families(6 or more children per household) that some children will be waylaided, cast aside, and neglected while some will receive the lion's share of attention.

This poem is right on target regarding the large-very large family. Parents who knowingly have large-very large families are concerned about THEIR wants. Their mantra is that THEY want that large-very large families without being concerned of the ramifications of their acts on their children. They really do not care about the well-being and the future of their children.

Children in large-very large families tend to be impoverished as there is little monies allocated for the necessities, if that, let alone for anything beyond the necessities. Children in large-very large families learn to do WITHOUT very early in life. This is not only socioeconomically but in terms of parental time and attention. It is quite de rigueur for children in large families to raise themselves and if they are the oldest child, raise/parent the younger siblings. Life for children in large-very large families is hell. This poem has eloquently describe large-very large families to a T.

BTW, breed like maggots is a harsh but figurative way of stating that some people reproduce irresponsibly and without thinking. Instead of saying breed like maggots(very pejorative statement I might add) , say incessantly and mindlessly reproducing.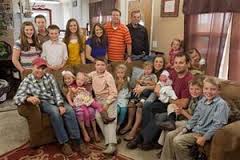 EGAD, ENOUGH ALREADY!