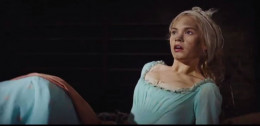 (1) Oldest children in large/very large families must SERVE their parents & younger siblings. They have to be on 24/7/365. Everyone is FIRST while they are LAST, if that! Come now, WE need YOU, COME QUICK! It brings to mind the Temptation song, " Hear that sound, that hammer pounding, pounding, from sunup to sundown...." It is never ending for oldest children in large families. Cinderella was a SLAVE to her stepmothers & stepsiblings; so are oldest children SLAVES to parents & siblings!

(2) Oldest children in large/very large families are the MOST ABUSED & MISTREATED. They are considered to be nonentities unless they are "NEEDED". Yes, oldest children are either a useable commodity in their family or they are simply regulated to being nonexistent. They are DISCARDED & DISPOSABLE, just like Cinderella. When she was not a useable commodity, poof, she was non-existent or worse, a nonentity!

(3) Oldest children have NO INDIVIDUAL or in fact NO LIFE outside of their families. They EXIST primarily for their families. It's PARENTS & younger siblings ad infinitum. Who are THEY? There is not a they.....oh NO. They......AREN'T......simply AREN'T! Cinderella had no individual life. In fact, she had NO life at all. It was stepmother & stepsiblings ad infinitum! If this is not the lower depths of hell, NOTHING IS.....

(4) Oldest children are regulated to LAST place by their parents. They are disposable, dismissed, & in general, disregarded by their parents. They receive the LEAST parental attention. Their parents feel that their oldest children are full fledge adults & treat them THAT way. However, oldest children are adults in the most negative sense. All the drudgery & none of the glamor & privileges. Cinderella as we all know was ALWAYS REGULATED TO LAST PLACE. Yes, Cinderella was marginalized by stepmother & stepsiblings while oldest children are marginalized by their OWN parents. In fact parents are the STEPPARENTS to oldest children. Well, oldest children in large/very large families are treated as STEPCHILDREN or worse by their parents!

(5) Oldest children in large/very large families LOOK for a way to ESCAPE their familial bondage by any means necessary. Some leave home as soon as they can, feeling that way they can at least have THEIR OWN lives. Many oldest daughters in large/very large families marry THE FIRST person who asks them. They have to rescue themselves. At least Cinderella had the Fairy Godmother & the prince.