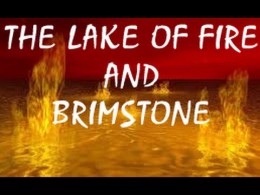 No need to be creative, the Bible spells it out for you but of course you don't believe there is a hell so this is really a rhetorical question meant to demean scripture by making hell out to be some fictional idea of misery that can be compared to, no diminished, by seeking out "creative" examples of misery on earth that is worse than hell. Sounds like a fun game to play but making fun of actual tragedy and suffering is really in bad taste.

But surprise, surprise, little did you know GM there is a truthful unimaginable answer to your question GM!

Yes, there is a place worse than HELL. That place is the lake of fire and brimstone talked about all through the Sacred Scripture, but not defined and described until the book of Revelation. At the final judgment all of the people whose names are not found written in the book of life will be incarcerated there for eternity along with death, HELL (haides or she'owl), satan, the beast, and the false prophet. These will be the same people who take the mark of the beast in the last days. This lake of fire and brimstone is a terrible place. Much worse than HELL ever pretended to be, and it is for eternal punishIng.

Satan will also be in the lake, but not through his choice. It is a place of punishIng for him too. So all of the unrepentant and unimmersed sinners and all of their teachers are going to have some famous, or rather infamous, company. Satan, the beast, the false prophet, death, hell and all other people whose names are not in the book of life. The torment will be forever. (Revelation 14:9-13; 19:20; 20:10, 14-15)

So now you know as much about HELL as you probably never wanted to know.

The reason that men cannot understand the reality of hell is because they have no understanding of the reality of sin... what it means to disobey...turn away from...God...and His way of living...and, instead, "obey"...and live for...self!

Be aware, however, that God does not want you...or anyone else for that matter...to go to hell because He is "not willing that any should perish, but that all should come to repentance." (2 Peter 3:10).

Look at what God did to save you...and whosoever...from hell ..."God so loved the world that He gave His only begotten Son, that whosoever believeth in Him should not perish, but have everlasting life!" (John 3:16).

"But the fearful, and unbelieving, and the abominable, and murderers, and whoremongers, and sorcerers, and idolaters, and all liars, shall have their part in the lake which burneth with fire and brimstone: which is the second death" (Revelation 21:8, KJV).