Not so much 'if' winter comes as 'when'... January is the long haul after Christmas and the New Year, by mid-February you know spring's round the corner. If you get a false spring of the sort we've just had before this big freeze, it could feel pretty hopeless if you're the sort that gets depressed easily.
Best thing is to get down to writing. Sit down with a hot coffee, a Kit-Kat and knock a few hubs off on the keyboard. You'll feel better after the first few lines and a sense of achievement will set you up for the day. Then you go out and spend a couple of hours looking around the shops at things you can't afford and you're back down again. Better still, go down to the park and watch the birdies fluttering about, squabbling over territory. Then back home again to add another Hub page to your credits.
That's what's known as therapy!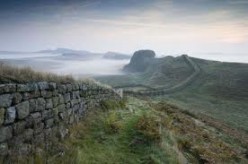 Here's a nice picture of Hadrian's Wall for inspiration - see if it gets your creative juices going.