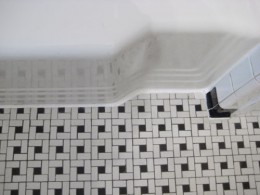 To keep your shower clean all you have to do is wipe all the surfaces with a squeegee after each shower. This will prevent calcium build up and water spots.

If you have mold in you caulk, replace the caulk with silicon caulk.
If your grout lines are dirty try cleaning them with a low ph cleaning agent, such as bleach. Dilute the bleach with a 1/16 ratio.

If your shower is in need a of tune up, try using dry vapor steam or call a professional cleaning service.

Check out this video on You Tub "Shower Tile Cleaning"