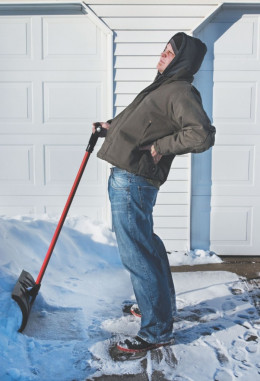 Yes, yes, yes....but no! Used to but one year I found that every time I lifted a shovel of snow (or dirt) my back would go out. Something about having that weight at the end of the long handle would do it. I could lift a hundred pound sack straight up with no trouble, but not a shovelful of something.

Shoveling a gravel drive is not fun either. So that winter I got a couple tarps that were big enough to cover the driveway 5ft more than the width of a car. if you have a long drive, line the cars up in the driveway and put the tarps down in front of them up to the road (and narrower tarps along the driver side of the cars)

When it snows, every two-three inches that lays on the ground we go out and pull two side ends of a tarp and roll the snow on the tarp off the edge of the driveway (pulling doesn't hurt my back) and replace the tarp. One person can even do it one corner at a time but with two you can even let the snow get 3-4 inches deep. Wet snows I'd stick with 2".

Been doing this for years, have the nicest dry driveway possible, especially good if you have a gravel drive. If windy you need to weight the edges of the tarps down, I use long boards, always have some wood for projects around the grounds.

So,"Why don't you pave your driveway and have it plowed?" you ask? Looked in to that and decided the activity was good for an old man and that was money we could put to good use elsewhere! The only drawback, which only happened once, is when you get like 6 - 8 inches overnight. Getting up every 2 hours to go out and pull tarps is not what I'd call fun, or healthy. But I fixed that, the neighbor is a local TV weatherman and when I complained once about having to get up all night long for a snowstorm he predicted he promised me he'd make sure that never happened again....and it hasn't! So we give him a nice Christmas gift every year. Amazing what science can do these days!

Well, see ya around.

And my back hasn't bothered me (much) for years.