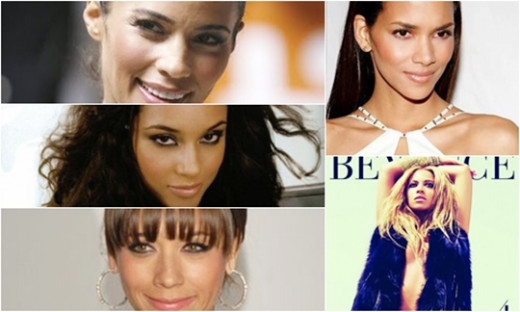 Well, not according to actress/dancer/singer Vanessa L. Williams. In a March 2014 interview, Ms. Williams asserted that Black actresses have it difficult in Hollywood regardless of whether they are light or dark skinned. Ms. Williams vehemently maintained that on a whole, roles for Black actresses are difficult to get. However, Ms. Williams maintained that Lupita Nyong'o was a phenomenal actress and that the latter's Oscar was well deserved for her brilliant interpretation of her role in the movie 12 Years A Slave. Here's a link to the interview:
http://youtu.be/YMWoi_1ZHaA

However, Denzel Washington had a different perspective on this issue. In 2012 interviews in Clutch and Madame Noire magazine, Mr. Washington informed his daughter that because she is a dark skinned Black woman, she had to work extremely hard in order to just get her foot in the door and succeed. He indicated that dark skinned Black actresses have to be phenomenally good in order to be noticed in Hollywood. He further relayed to his daughter that roles that Viola Davis gets in comparison to the roles that Halle Berry and Paula Patton receive. He told his daughter that she had to be a triple/quadruple threat and totally know her craft as an actress as the stakes will be against her as a dark skinned Black woman.

Despite what Ms. Williams stated, light skinned Black actresses have it somewhat easier than their dark skinned counterparts. Light skinned Black actress have a more universal and less ethnocentric appeal than their dark skinned counterparts who have a more ethnic appeal. Light skinned Black actresses look more European hence they are more likely to be hired more. In an Essence magazine article two decades ago, a talented dark skinned Black actress was applying for a movie role and the director informed that although she was talented, the light skinned type was more preferable. Lighter skinned Black actresses have more varieties in roles and oftentimes are up for more glamorous, upscale roles while dark skinned Black actresses are relegated to more ethnocentric and stereotypical roles.

Here's another link in which Black actresses discuss the issue of colorism as related to Black actresses in Hollywood:
http://youtu.be/BZ_MEjAWTP8

Yes, there is STILL light skin privilege regarding Black actresses in Hollywood whether Ms. Williams wishes to acknowlege it or not! Do you believe that light skinned Black actresses have it EASIER than dark skinned Black actresses in the media? Why? Why not?