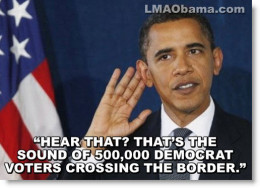 This problem of the executive branch (Obama) of the federal government wanting to give away America is rooted in the fundamental belief they have which is a deep-rooted disagreement with the country as founded. They believe the country was founded under false pretense. They think the country was founded on slavery and racism and bigotry and favoritism to the rich. They do not think the United States economy has been legitimately built because it has been built on the theft of resources and materials from countries around the world where we have gone and conquered and stolen things.

The wealth of the country is not legitimate because it's been built on the backs of the poor who have never been properly compensated for their work, and it is they who actually built this country while the rich got the spoils. They don't believe anything about the founding of this country that is legitimate, that it is a rigged game from the get-go. They also have a deep-seated, inexorable bias against any majority. Any majority is, by definition, illegitimate. A majority has way too much power simply because of numbers. And because of those numbers, that majority can punish and discriminate against and mistreat the minorities. Not just racial, but numerical minorities.

So majorities are inherently horrible and mean-spirited and extremist. And so all of this immigration policy, giving away the country, is finally making it fair. We are simply returning this country to the people who were here first, in the case of Native Americans and now the Mexicans and other Central Americans, and we are acknowledging that we took what wasn't ours from them and made ourselves into a superpower that we never really deserved. And so this is now get even. This is payback.

This is where liberals make themselves feel worthwhile by admitting that all the country has become is illegitimate, and this is how they are asking for forgiveness from all the minorities, be they racial, be they ethnic, be they religious. They believe that the country is one giant grievance and that every minority that has ever existed has a legitimate grievance against this country from day one.

The Democrat Party has been taken over by these kind of leftists in the last 30 years. They've always been there, but they themselves used to be, in a practical sense, their own minority in the Democrat Party. But now they've taken it over and they run it, and it's not your grandfather or your father's Democrat Party anymore.