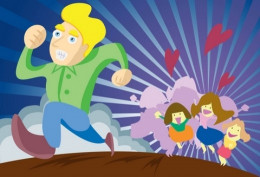 "Allowing same sex couples to marry didn't help those same loving couples (who just didn't want to get married) to validate their love for each other." You're right!
It only made it possible for those (couples who wanted to get married) but were forbid to do so. Most couples who don't want to get married are avoiding it because (they don't want the legal ties)!
Stieg Larsson author of "The Girl with the Dragon Tattoo" had lived with his girlfriend for 32 years and when he died Eva had no benefits or received any royalties from his book sales or movie rights.
He died from a sudden heart attack at age 50. Some books were published posthumously, so Larsson never saw how successful the books were to become: so far, they have sold more than 75million copies in more than 30 languages.
In fact his paternal family and siblings initially sued Eva to have her removed from the home she shared with Stieg. This would have never happened if "Common Law Marriage" had been recognized in Sweden.
I guess the moral of the story is if you're living with someone you really care about whether you want to get married or not it pays to create a trust or a will that spells out what you want them to have.
Something tells me we won't be seeing a lot of (single people) marching on Washington seeking marriage benefits. From what I understand it's usually (men) who want to avoid marriage and it's legal entanglements!


Actor Lee Marvin in 1979 fought and won against a Palimony lawsuit a live-in girlfriend filed against him. Michelle Triola claimed that she deserved part of his $3.6 million fortune because their relationship had been based on an unwritten contract just as legitimate as a marriage certificate. She "gave up her career" to be with him.
He ended up having to give her $104k. Her small victory in Marvin v. Marvin was short lived. In 1981, a California appeals court, in a 2-to-1 ruling, overturned the judgment.