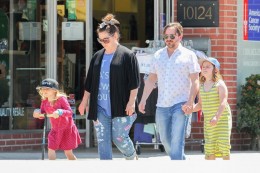 People shouldn't have children until their middle to late 30s. Anyone who has children in their 20s is totally bereft of intelligence, even stupid. Couples who have children in their middle to late 30s are more relaxed parents. They also explored various relationship options before they married & had children. Besides being more relaxed parents, they are also the happiest parents.

Couples in their middle to late 30s have attained the highest education possible. They are also highly established, even ensconced in their careers. With their life, education, & career experience, not to mention their socioeconomic affluence, they have far more to offer their children. They have grown up because they have children as opposed to couples in their 20s who haven't established themselves yet so they are in a very precarious position to be parents. They have very little to teach & offer their children as they haven't fully lived yet.

Couples who have children in their 20s have unresolved issues. They didn't fully explore relationship &/or lifestyle options. They aren't settled in their careers & perhaps, haven't attained their highest, possible educational levels. More likely or not, their parents have a major part in raising & supporting these children socioeconomically. Many grandparents play a major role in raising the children of couples in their 20s because the latter aren't fully committed to their parenting role. They want to party & hang out w/their friends, not be parents. They also resent being parents as they feel tied down. They tend to take out their frustration on their children shouting & heaping other forms of abuse on them because they haven't fulfilled their lives yet. They are CHILDREN raising children, not ADULTS raising children.