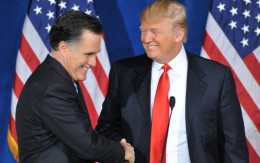 Marco Rubio, accusing Trump of being a con man? That's the pot calling the kettle black, in spades.The Marco came to office on the back of the tea party movement which he used only to knock on the establishment Republican's door where he knocked and they said come on in good and faithful servant.

There is no secret NOW about what camp "The Marco" is in and that is why even though he has no chance of legitimately winning the nomination the establishment has him doing anything he can to take "The Donald" down a notch so together all the candidates can keep Donald from getting the required delegates thus leading to a contested convention. A convention that is run by the Republican establishment who can change the rules the day before or the day of the convention.

The Republican establishment has shown it's real self. It has morphed in the face of true conservatism (Cruz) which it now is repulsed by, into a version of the Democrat party, a kinder gentler version which becomes more like liberals every day using liberal tactics to eat their own .

How often have we seen Barachio Obama publicly articulate positions that are diametrically opposed to videos of him stating his positions taped years ago? Duplicity abounds and now we have Mit Romney, another establishment Republican of the donor class, the string-pullers of the establishment pulling an Obama duplicitous move.

Did you see his video of Mitt accepting Trump's endorsement in 2012? Compare it to what he said this week? Listen to what he said about Trump in 2012: https://www.youtube.com/watch?v=P-e92jqug0w
This week Romney says about Trump:
"His is not the temperament of a stable, thoughtful leader," Romney declared. He called Trump "a phony" who is "playing the American public for suckers," a man whose "imagination must not be married to real power."

Now Trump is a phony? No! Trump isn't someone Mitt wants money from. Either he or Trump has changed a whole lot since 2012, I don't think it is Donald Trump, do you?

So much for the idea Mitt is this ethical, honest upstanding pillar of the Republican Party and a "severely conservative Republican" as he put it, lol. He is nothing more than a hack for his establishment club which unlike Christie, Mitt is loath to abandon.

So get ready because if the establishment has its way, and they usually do, we are looking at a contested convention and if the establishment is willing to do what many think they will, it will be the end of the establishment's Republican Party but that could be a good thing.