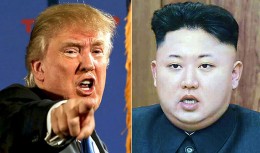 Will Trump talk to Kim Jong Un?

Will they or won't they? only their hairdressers know for sure!

I doubt Kim Jong Un would speak to him. Trump is not a god like Kim Jong Un. Besides if he did you know Un would use it as propaganda to totally dis Trump and America no matter what is said.

If there ever was a candidate for regime change NK is it with their suffering population.

But no, Hiliary and the democrats along with Bush decided to get Saddam Hussein who had no nukes. Well what do I know, maybe NK will screw up and accidentally explode a nuke in their own back yard, wouldn't that be nice? Wonder if the CIA could arrange that to happen and have plausible deniability.

Maybe then Trump should talk with him, if he is to be found.