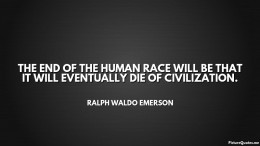 Absolutely not. In fact some theorize that we are all in a Matrix simulation world. From wiki: In 2003, philosopher Nick Bostrom proposed a trilemma that he called "the simulation argument". Despite the name, Bostrom's "simulation argument" does not directly argue that we live in a simulation; instead, Bostrom's trilemma argues that one of three unlikely-seeming propositions must be true.

In 2010 "Professor Frank Fenner, emeritus professor of microbiology at the Australian National University, has predicted that the human race will be extinct within the next 100 years.
He has claimed that the human race will be unable to survive a population explosion and 'unbridled consumption.'"

The Earth will be just fine just as soon all this ticks crawling allover it sucking the black gold out of it's body goes away.