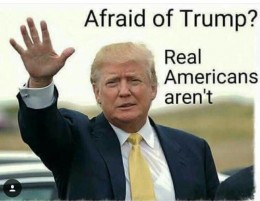 To start with nothing you have accused Trump of compares to (and I quote from my black friend, Verily Prime) "Secretary of State Clinton, probably the most corrupt politician since Boss Tweed and she and Democrats have the nerves to point accusatory moral fingers at Donald Trump… accusing the latter as being immoral - what alternate universe are we living in?" http://hubpages.com/politics/Hypocrats- … t-16914650

Amazing how a few lewd remarks, not deeds, by Trump over 10 years ago, like that somehow, is worse or even compares to anything HRC has said or done? Hillary was less the bereft victim of her husband's transgressions than his enabler, a "women's advocate" with no compunction about slandering the "bimbos" who were obstacles in her way, not lewd talk actual actions taken to threaten, blackmail and defame her husbands female victims. And what did the leading democrats say about Clinton's 9 Lewinskies n the oval office. None of our business, that's his "private" life! (private or did they mean his private's life).

But to answer your question, "what exactly would Trump have to do before you would consider NOT voting for him?"

Trump would first have to have served as a career politician for over 30 years having been a big part of what has brought America to be on the path of destruction it is on and if he wanted to keep us on that path believed to be on the wrong path by the vast majority of people according to polls.

Then if Trump was an advocate of partial birth abortion I wouldn't vote for him.

If he was looking to put Justices on the supreme court who would legislate from the bench, I wouldn't vote for him.

If his wife was accused of rape and/or sexual assault by dozens of women and he helped her cover it up I wouldn't vote for him.

If he was responsible for the safety and consequent death of 4 patriots in Benghazi and then lied about it, even to their families, I wouldn't vote for him.

if he deleted 33,000 government emails kept on an unauthorized private unsecured server and his aids took the 5th instead of answering questions about it, I wouldn't vote for him.

If he as a government official engineered and carried out a pay to play scheme for foreign countries to gain influence over America while in his post and after were he to be elected president, I wouldn't vote for him.

If he was even suspected of being guilty of all these things, not just one but all these scandals taken together, I wouldn't vote for him. On top of all that if these things were things that Trump did, I'd vote for anyone else but him, even if that other person said things that could be somehow interpreted or were lewd or insulting.

Your question is like asking why would you vote for someone who may have said a few things when the alternative is someone who actually did horrendous things, including criminal acts no less than compromising our national security.

I think you need to rethink what the real issues of this election actually are, or maybe you aren't capable of rational thought at all.