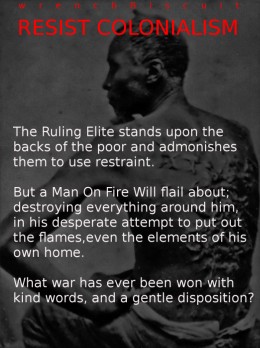 Of course it is an issue about race. The fact that you would post such a question is racist. There are approx. 240,000 black people living in Milwaukee County. I suspect that less than half of 1% participated in the riots. Yet, according to the racist commentators here on Hubpages, the black community throughout Wisconsin, as well as the entire nation, is monolithic, and stands united in it's goal to kill whitey. But nothing could be further from the truth.

The riots in Milwaukee are a symptom of a racist capitalist system that has focused the majority of resources in Wisconsin on a "prison for profit" system rather than education and employment. Furthermore, the police state needs to be dismantled. And since more whites are being killed by cops than any other race, it would make more sense for the white racists to focus their attention on the real enemies of the people: The cops, Monsanto,the U.S. government, to name a few.


I support Black Lives Matter 100%. I find it humorous that racists are seeking to paint an organization dedicated to destroying a racist system as also being racist. Such rhetoric belies any notion of intellectual superiority. Suffice it to say: It is simply impossible for a member of an oppressed minority to be racist. It is more likely that a man can experience a menstrual cycle, become pregnant, or sprout wings and fly back to Dixie; where the good black folk are picking cotton, and the good white folk are raping the slave women and children, teaching them how to read and write, and all about the golden rule.