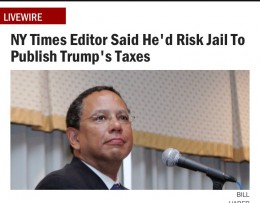 If Hillary was found uninditeable by the FBI, who can be found inditeable? That is as long as they are a Democrat, apparently. He'd risk jail? Obviously he doesn't think he is risking jail (he knows he isn't) or why would he say that he would risk jail?

As you mention the Trump campaign says, "the New York Times, like establishment media in general, is an extension of the Clinton Campaign, the Democratic Party and their global special interests," the Trump campaign said in a statement about the publishing of the documents. "What is happening now with the FBI and DOJ on Hillary Clinton's emails and illegal server, including her many lies and her lies to Congress are worse than what took place in the administration of Richard Nixon – and far more illegal."

This is the plain truth and it isn't just the Trump campaign that has said it but the media goes out of their way to shill for Hillary like Jester Lester did in the 1st debate, like cutting off guests' mics to protect her. Here you go https://www.youtube.com/watch?v=IdYRN8Clddw or editing tapes like http://freebeacon.com/culture/katie-cou … cumentary/

Here is a list of some of the things THE LEFT criticizes Hillary for (with thanks to Mass Southpaw for compiling the authoritative list) :

Previous opposition to marriage equality
Previous support for harmful welfare "reform"
Previous support for harmful 2001 bankruptcy bill
Support for harmful public education "reform," including No Child Left Behind
Support for private prison industry
Support for continued use of death penalty
Record of support for "free trade" agreements that encourage outsourcing of U.S. jobs
Opposition to a subsistence-level minimum wage
Opposition to aggressive re-regulation of Wall Street
Appearance of impropriety in accepting large speaking fees from financial corporations
Vote in favor of Authorization of Use of Military Force in Iraq
Vote in favor of continued use of cluster bombs overseas
Inadequate support for human rights, particularly in the Occupied Territories
Close association with Henry Kissinger
Uncertain support for meaningful action against climate change

http://www.dailykos.com/story/2016/02/2 … ong-Choice

It sounds like the left has a lot of problems with Hillary but notice none of their criticisms of her have anything to do with her lying to the nation, to the UN, to Congress & the world about Benghazi, her email server, deleted emails and compromising our national security. Those things are all quite acceptable to the left who know they can't get anywhere politically without a cadre of lies and liars, secrecy and clandestine operations like an unauthorized email server to hide the truth.