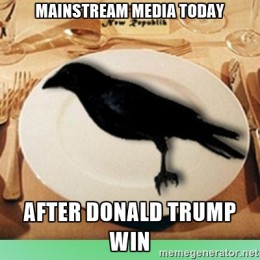 Great point Jack. Trump, has never been seen by anyone as a tower of morality and no one I know has said he was. He has been a businessman all his life, focused on getting the job done and along with that mentality comes compromising principle to get the job done. That is what is happening with Buzzfeed now, their job to discredit Trump...anyway they can.

But there is a difference. Buzzfeed and CNN are supposed to be ruled by journalistic principles. Other media outlets refused to run their stories because the stories could not be authenticated, yet Buzzfeed and CNN ran them knowing they are probably not true. That is the definition of fake news and to any discerning observer it is no different than what Dan Rather did to George Bush that ended Rather's career.

Trump in the past on the other hand, though I don't approve of things he has said in this vane, pointed to other stories already in the "news", although they were probably "fake news". He didn't create them or publish them like when he brought up a story that recently appeared in the National Enquirer. The story wasn't Trump's, he just brought up what was published by the National Enquirer. There is a big difference between citing something in the news no matter how ludicrous it may be and actually creating and publishing fake news which is what Buzzfeed and CNN are doing.

A taste of his own medicine? Not exactly but you could say that. However just like everything else he has done that would have ended any other Republican's career, this will only strengthen his base and the reason is people who voted for Trump weren't looking for political correctness or feigned perfection. They want change, conservative Republican policies and someone who can get that job done - They know Trump is the man who will do it and already it's been all the media who has had to eat crow, not Trump.