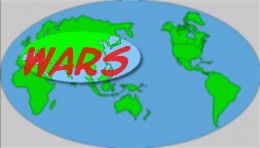 Norma
When was the last war that the US won. Maybe you thought we won WWII. But think about it in terms of Eastern Europe. Before the NAZIs attacked Eastern Europe Poland and the rest were Free. Then during WWII they were occupied by the NAZIs.

What happened after Germany lost the war? The US allowed the Soviet Union to control Eastern Europe and even split Germany. So, tell us how that was a win with most of the European countries becoming part of the USSR. We helped save China from the Japanese, and after the war they became our enemy. They are one of the biggest threats to the US today. We also couldn't even free the US people held hostage in Iran for over 400 days, And today Iran is a major problem for the US and the Middle East.
We haven't won a "won" a war since 1898. And the reason is that we may win military battles, that is not the same as winning a war. WWI for example was not a win because most of the same enemies started WWII. Winning a war means you don't have to go back again and again.
Consider the threat from N Korea today wouldn't have happened if we won the Korean war. We totally lost the Vietnam War, imo, because the politicians wouldn't let the military do their job. The list goes on,, The point is that we the US shouldn't keep getting into these wars unless we are prepared to win. And that hasn't been the case, and that is a historical fact.

I think that this question should be taken by president Donald Trump and not set into motion by a president that has only a few more days in office. Good bad or indifferent it should be president Trumps call,. Don't you?