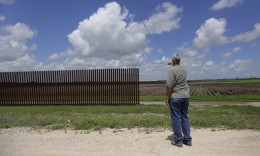 Terry what is the relevance to your statement? We have over $20 billion in illegal drugs, human trafficking, gun running and other contraband coming across the southern US border, and you red herring that all the way to Canada. How is one related to the other.

Mexico doesn't let its southern border neighbors into Mexico, but they will give them a 21 day visa for them to get into the US through the mostly open border. Some very dangerous gangs have come from these countries, but you don't care.

I asked a ? of my own, can you name 3 reasons not to have the US Border Wall. I got zero responses.

And when Americans cross into Mexico they have zero rights. A few years ago a US Marine made the wrong turn and found himself at the Mexican border crossing. He had legal US registered guns in his car which he declared to Mexican border patrol. All they had to do was let him turn around. But instead they put him in jail for a year, and president Obama, the State Department or anyone else in the US government helped him.

Yet, in the US we have sanctuary cities, like Los Angeles where illegal aliens who have committed felonies in the US and went to prison, are not deported when they get out of prison. Los Angeles takes them under their government wing and doesn't allow them to be deported.

Is this the fair play you are rooting for, Where illegals aliens in the US are treated like de facto Americans. They can protest in the streets of Los Angels and burn American Flags, while flying the flag of Mexico, and contrast that with stories like the US Marine being put in jail.

Is that the America you want us to continue to be? And why don't you want to be part of the president Donald Trump make America great again?

Both the democrats and the republicans have caused the US to decline since the 1970s, and actually cause the 2008 economic meltdown. We haven't recovered from it, and the economy is still very fragile.
In addition, we have been in one war after another during that time, and we have lost them all? and the ones we haven't already lost, we are losing in a big way.

And why isn't president Donald Trump right in not trusting the CIA and the NSA when they didn't prevent 19 Muslim Terrorists from successfully executing an attack on the US, and without a Single Defensive Action from the entire US Military, and Military Intelligence. ZERO. Norad failed, Military failed, Intelligence failed, there was nothing that didn't fail.

Is that what you want?