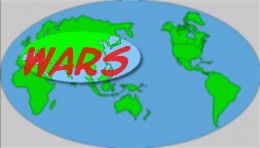 Your idea is why we have N Korea as a threat today. The US politicians have gotten us into many wars, wars that we lost. At the end of WWII, the politicians gave into to USSR and allowed them to get Eastern Europe. Before the war, Eastern Europe was free. Then it became controlled by the NAZIS. At the end of the war, they should have returned to their free pre war status. But, they just switched from the NAZIs to USSR.

This also resulted in the Cold War. Then, backed by communist China and USSR the North Koreans attack South Korea. The politicians prevented the US Military from winning the Korean War.

While South Korea is doing very well since the war, the communists in North Korea have done poorly. They only focus on their military.

So to answer your question, the US is responsible for this threat to the Pacific countries. We have also prevented Japan and Germany from being able to defend themselves militarily.

We left Iraq to fend off Al Qaeda and now we have Syria and Iraq fighting ISIL.

Your suggestion has been proven to be Bad too many times in history.