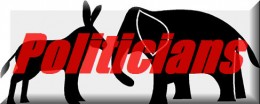 Demas

The republican party is failing, not Trump. If the people wanted Pence as president, he would have been on the ballot for the presidency. If there was anything to find, it would have come out even before the inauguration, and remember this whole Russia Trump thing was started with a bogus opposition paper (Dossier) that was never verified by the plethora of US intel agencies.

The leaks in the executive branch are mostly from Obama left overs. Investigating these leaks which are bonafide Felony Crimes should be paramount over the fabricated Russia Trump Dossier.

President Trump is the only one trying to get something done for the Country and the American People. None of the democrats, and some of the republicans are trying to RESIST and do the jobs of domestic terrorists. Terrorists don't need to attack the US, while the democrats and rinos are doing such a great job.

These people in congress have taken the form of a deadly virus. They did nothing for the last 8 years. Remember in 2007-8 congress took their eye of their jobs, and campaigned and did fund raisers for the 2008 presidential election.

The economy tanked, and we are starting to recover, but the left is taking the focus of congress off of doing their job, and another 2008 is the only result. It could be 2008 plus 911.

With all due respect, I think the question just feeds the democrat party vengeance plot because Hillary lost. The voters aren't going to vote for Pence in 2020, The democrats are already tearing down the 2018 elections.

Biden is rumored to run in 2020, and who knows who else. It looks bleak for the country. Congress has failed, and so has the democratic republic jokingly still being called, The UNITED States.

This is my answer to your ?/ If I have answered the wrong ?, please delete my comment.