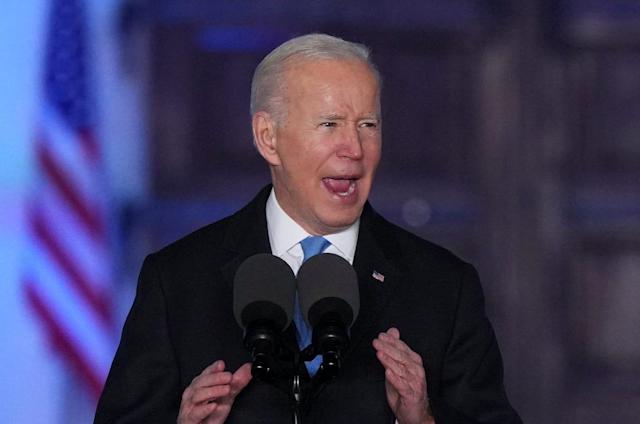 Please read, and just add your thoughts.

6:49 pm: Putin cannot remain in power, Biden says
Russian President Vladimir Putin could not remain in power, and his war against Ukraine has been a strategic failure for Moscow, Biden said on Saturday.

"For God's sake, this man cannot remain in power," Biden told a crowd in Warsaw. Biden also said the Russia-Ukraine war, now in its second month, had united the West, adding that NATO was a defensive alliance which never sought Russia's demise.

7:25 pm: Lviv mayor reports further strike
Lviv, some 60 kilometres (40 miles) from the Polish border, has so far escaped the bombardment and fighting that has devastated some Ukrainian cities closer to Russia since Moscow launched its invasion.

But on Saturday Governor Maksym Kozytskyy said two rockets had struck the city's eastern outskirts in the mid-afternoon and ordered residents to take shelter.

Later, Mayor Andriy Sadoviy said there had been another strike. "One more rocket strike on Lviv," he said in an online post.

7:49 pm: Kremlin spokesman dismisses Biden comment on Putin not staying in power
The Kremlin's chief spokesman dismissed Biden's remark that Vladimir Putin "cannot remain in power," saying Russians choose who their leader should be.

Asked about Biden's comment, spokesman Dmitry Peskov told Reuters: "That's not for Biden to decide. The president of Russia is elected by Russians." A White House official said Biden, who was speaking in Warsaw, had not been calling for regime change in Russia.

8:04 pm: Biden not calling for Russia 'regime change', White House says
Joe Biden is not seeking "regime change" in Russia, the White House said, after the US president declared in a major speech that Vladimir Putin "cannot stay in power".

"The president's point was that Putin cannot be allowed to exercise power over his neighbours or the region," a White House official said. "He was not discussing Putin's power in Russia, or regime change."

8:20 pm: Lviv saw 'huge plume of black smoke'
"The residents all around were staring at this huge plume of black smoke rising from the city, coming from the northeastern," FRANCE 24's Catherine Norris-Trent reported from Lviv in the video below.

"There have been several air raid sirens ringing out around the city with announcements telling people to get into bomb shelters, so it's a change here because the strikes this afternoon hit the fuel depot around 5 km from the city centre -- so a pretty significant development in Lviv, which has seen several incidents but on the outskirts and around the wider region."

9:21 pm: Kyiv says US has 'no objections' to Poland supplying war planes
Ukraine said that the US does not object to the transfer of war planes to Kyiv to help it fend off the Russian invasion, after the Pentagon previously rejected a "high risk" offer from Poland.

Officials in Washington "have no objections to the transfer of aircrafts. As far as we can conclude, the ball is now on the Polish side. We will look further into this matter in our conversations with Polish colleagues," Ukraine Foreign Minister Dmytro Kuleba said in written comments.

9:44 pm: Russian forces are firing at Kharkiv's nuclear research facility
Russian forces are firing at a nuclear research facility in the city of Kharkiv, the Ukrainian parliament said in a Twitter post on Saturday.

"It is currently impossible to estimate the extent of damage due to hostilities that do not stop in the area of the nuclear installation," the post quoted the State Nuclear Regulatory Inspectorate as saying."

Source --- https://www.france24.com/en/europe/2022 … saw-speech

It's unfortunate I needed to take my source from an outlet in France.

Note I offered a source. I have added this link in hopes some here will take the time and read it., and share their view. I would never, add such a comment without offering a source. In my view, the timeline is provocative and has not as of yet been reported by American news outlets. Hopefully, some US journalists will report this timeline. Hopefully, some here will read this article, and follow the timeline of events that occurred in regard to Biden's statement. Hopefully, some will take the time to share their thoughts.

I feel this timeline of events provokes many lines of discussion. Why have we not been availed of this timeline? Does Biden pose a danger to our security? Did the people of Ukraine suffer unduly due to Biden's derogatory inflammatory remark? Have I missed anything?